How to Upgrade or Downgrade Smartermail Disk Space
Posted by on October 20 2015 12:22 PM
Smartermail storage space is included in your hosting plan, however, if you want to increase or decrease the amount of space allocated to your domain, you can do so at any time via the customer control panel. Once ordered, the space will be added or removed on the Smartermail server within a few minutes. Please note that if your domain exceeds its current space limit, incoming and outgoing mail will be rejected until the disk allocation is increased, or until you bring the usage back under the size limit.
This article assumes that you are already familiar with how to log in to the customer control panel. If you do not know how to log in or have forgotten your password, please refer to this article first.
On the control panel Home tab, click "Buy Additional Resources" under the Store section.

Select your subscription and click Next.

Click the + or - under "New Limit" for the amount of email storage you wish to order. Increase or decrease to the number you wish to have total (in GB), then click Next.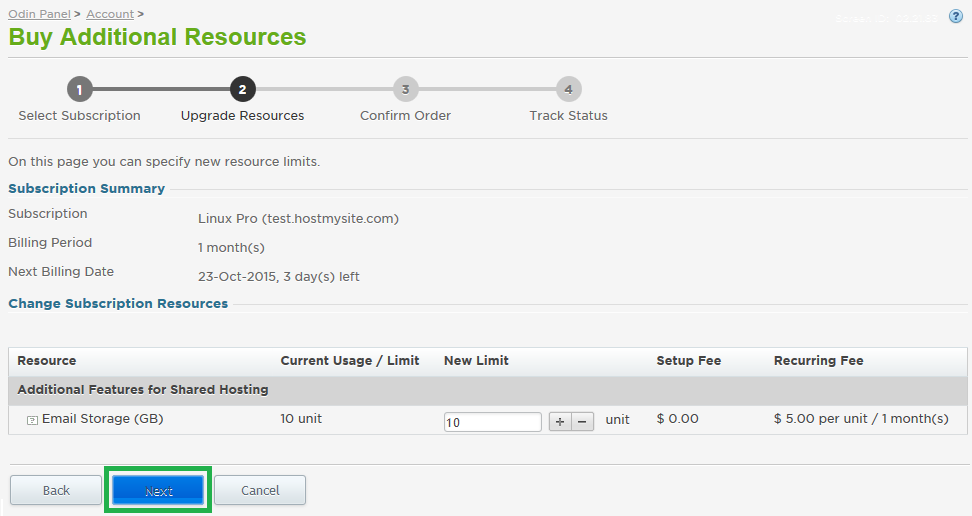 Review your order information, then click Place Order.
If you have any further questions that were not answered in this article, please contact us.
---