How to Find Your Smartermail Administrative User
Posted by Quinton Moore on December 04 2014 01:27 PM
In the control panel, the primary administrative email address root@yourdomain.com is not among the list of email users because the system creates it upon provisioning your new email domain. To find this user or to reset the password, you will need to go to a specific location in the control panel to obtain those credentials.

This article assumes that you are already familiar with how to log in to the customer control panel. If you do not know how to log in or have forgotten your password, please refer to this article first.
On the control panel Home tab, click "Manage" under the Email section.

From the Smartermail Details tab, click "Settings".

Here you will find your Primary Admin email information. Clicking "Show Password" will display the current password for the user. Clicking the Edit button will allow you reset the password as well as change the first and fast name for this user.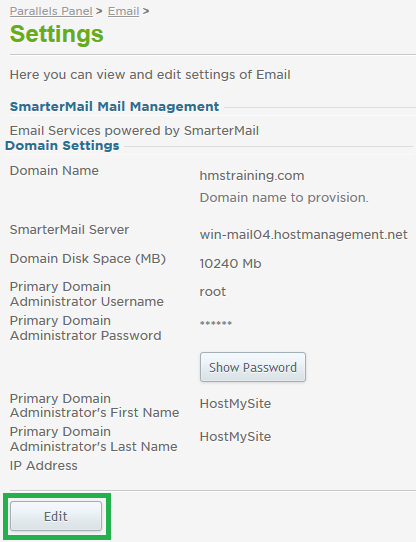 If you have any further questions that were not answered in this article, please contact us.
---