How to Submit a Support Ticket
Posted by Quinton Moore on August 06 2014 09:18 AM
This support article will show you how to submit tickets through the control panel. Tickets submitted through the Control Panel are automatically verified, meaning they require no further information for our support or billing teams to complete the requested task.
This article assumes that you are already familiar with how to log in to the customer control panel, or at least have your control panel login credentials. If you do not know how to log in or have forgotten your password, please refer to this article first.
On the Help & Support tab, click "Open a Ticket".

Enter a ticket subject, ticket details, a cc address (if desired), select a department, and ensure the proper account is selected in the drop down menu You can also attach files via the ticket submission form before submitting. Once you have entered all relevant details, click the Continue button.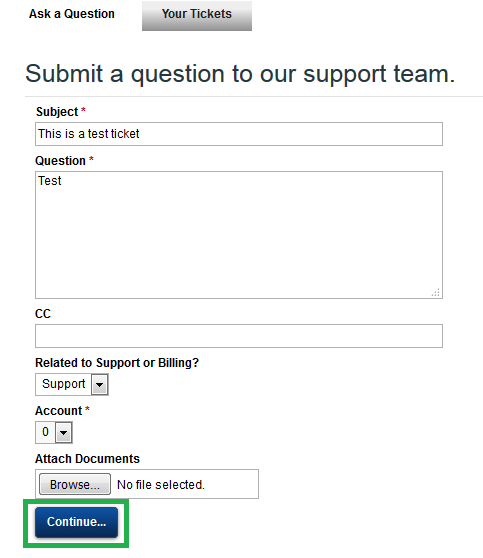 Please submit as much detail as possible so that we will be able to assist you when the ticket first comes in. Ticket resolution will be delayed if we have to reply to ask for further information. Some guidelines for submitting relevant information, including examples, are below:

Any error messages that are being produced.

Example: "An internal server error has occurred."

Specific steps to reproduce the issue, including any relevant URLs.

"Go to my website and click the contact link. Enter test information, then click submit."

When was the last time this worked as expected?

There is a big difference between, "This never worked," and, "It stopped working this morning."

Any changes that were made before or after this stopped working.

"I updated my Wordpress contact form plugin last night."

What the expected outcome should be.

"This should send you an email confirmation when you submit the page."

You will be presented with a list of potentially helpful KB articles -- if you do not see an article that answers your question, click the "Finish Submitting Question" button. If one of the listed articles does help to resolve your issue, simply click the "My Question is Answered" button.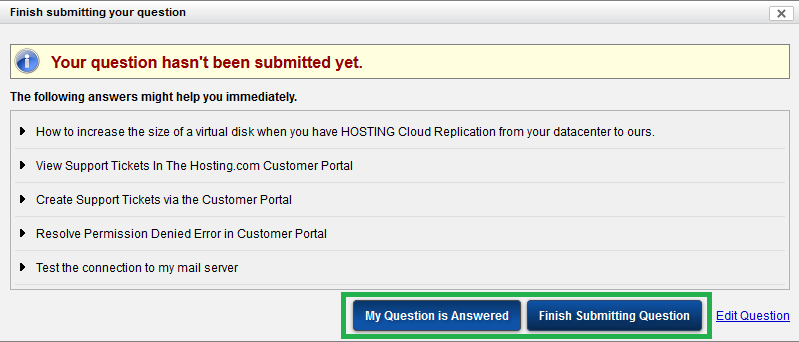 After submitting the ticket, you will receive a confirmation page and an email which contains the ticket number. The new ticket will also be visible in your Control Panel under the "Your Tickets" tab.

If you have any further questions that were not answered in this article, please contact us.
---