Posted by on March 01 2013 09:38 AM
This article outlines how to add a new domain to the HostMySite name servers using the Customer Control Panel. The assumption is made that you have purchased a subscription with HostMySite that includes DNS hosting.
This article assumes that you are already familiar with how to log in to the customer control panel. If you do not know how to log in or have forgotten your password, please refer to this article first.
On the control panel Home tab, click "Hosted Domains & DNS Management" under the Domains & DNS section.

Click "Add Existing Domain Registered Elsewhere".

Enter the domain name to add, select a subscription with which to associate the DNS zone, check the box for "Zone management ability" and click Next. There are optional drop-down menus for web and mail hosting, which would only be changed if you wish to use this domain with website or email services.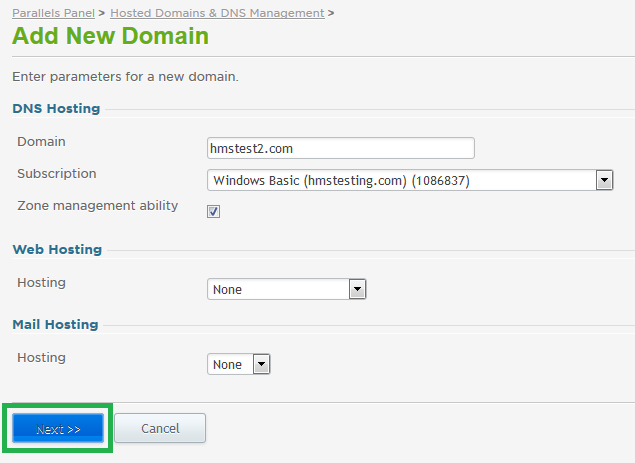 Click the Finish button to confirm the addition of the domain's blank DNS zone.

The domain will take about 5-10 minutes to synchronize across all the DNS servers. In the interim, you can begin to add DNS records. Once the DNS zone is configured, you will need to contact your domain registrar and have your name servers updated to HostMySite's name servers.
If you have any further questions that were not answered in this article, please contact us.
---