How to Update Your Domain Name Contact Information
Posted by on October 11 2012 11:22 AM
You can change a domain's contact information in two different ways: via the control panel (which will sync to an existing control panel user) or via our registrar's domain management interface.

This article assumes that you are already familiar with how to log in to the customer control panel. If you do not know how to log in or have forgotten your password, please refer to this article first.
On

the control panel Home tab, click "Registered Domains" under the Domains & DNS section.

Click the name or ID of the domain you wish to update.

Click the Manage Contacts button.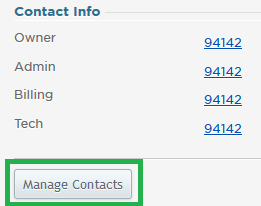 The control panel will only be able to update your contacts to an existing control panel user. You can create a new user with the steps listed in this article. To select an existing user, you can manually enter the user ID into the fields on this page, or you can click the magnifying lens icon to the right of the fields, which will pull up a user list. Once selected, click "Update Contacts". All contact information will be synchronized to the chosen user.

If you want to update domain's contacts independently of the control panel user information, you will need to log in to our registrar's domain management interface at https://manage.opensrs.net. If you do not have the username and password for the domain management interface, this article will show you how to reset this information.
If you have any further questions that were not answered in this article, please contact us.
---