How to Enable Blacklist Monitoring for a Website
Posted by on September 21 2015 01:17 PM
SiteBackup allows you to monitor your website for possible signs of compromise or blacklisting. Once detected, the system will automatically stop creating new backups of your site and database, which ensures you have a clean copy of your files to use as a restore point. This article will provide instructions on creating a blacklist monitor for your website.

From the SiteBackup dashboard, click "Add Website Blacklist Monitor" on the top right of the page.


Select your existing website backup profile from the drop down menu, enter the URL to monitor for blacklisting, select a database backup profile from the drop down menu (if desired), then enter the email address to which any blacklisting alerts will be sent. It is suggested that you leave the checkbox for "Stop backup after malware or phishing alert detected" as this will ensure you have clean copies of your files from prior to any compromise attempts. Check the box to agree to the terms and conditions, then click Save.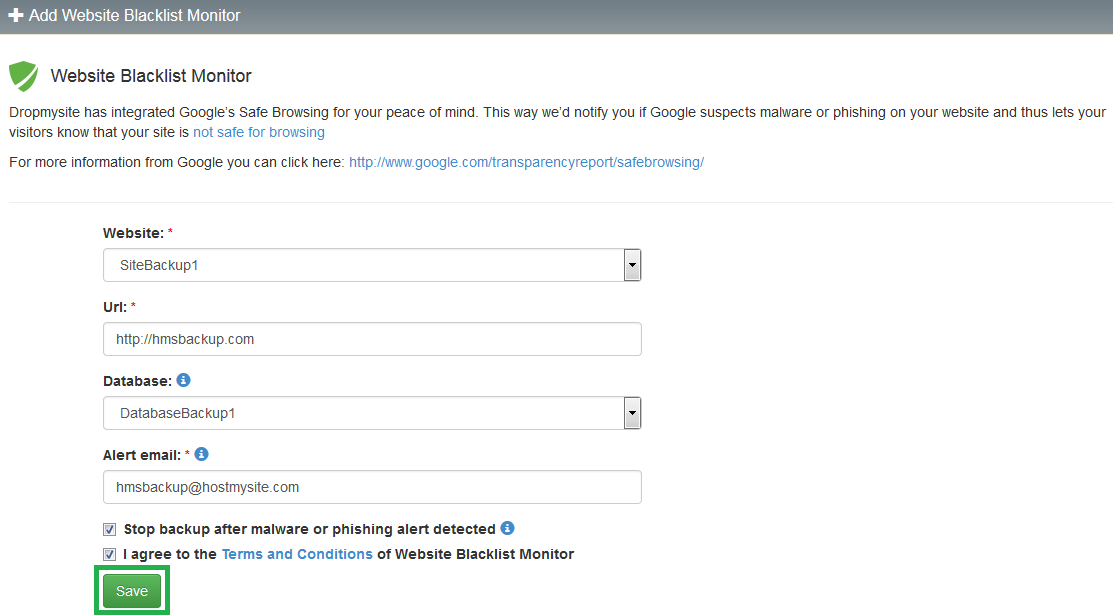 You will be taken back to the dashboard, and the new blacklist monitor will be listed under the Website Blacklist Monitor section.

If you have any further questions that were not answered in this article, please contact us.
---