Posted by Ashley Hayward on September 02 2015 02:11 PM
Domain name forwarding allows you to automatically direct visitors to a different website. You can forward a domain so the visitor knows they are being forwarded (standard forwarding) or you can hide this, so they only see the original domain name they typed into their web browser (frame forwarding).
This article assumes that you are already familiar with how to log in to the customer control panel. If you do not know how to log in or have forgotten your password, please refer to this article first.
On the control panel Home tab, click "Hosted Domains & DNS Management" under the Domains & DNS section.

Click "Add Existing Domain Registered Elsewhere".

Enter the domain name that will be forwarded, then select the subscription to which is should be associated from the drop down menu. If you will be using HostMySite's name servers, check the box for "Zone management ability". In the Web Hosting section, select either "Frame Forwarding" or "Standard Forwarding" as the Hosting type, and select your subscription again from the drop down menu. When completed, click Next.

Standard Forwarding: Any visitor will see www.your-old-domain.com change to www.your-new-domain.com in the address bar of their browser.
Frame Forwarding: Any visitor will still see www.your-old-domain.com in the address bar of their browser.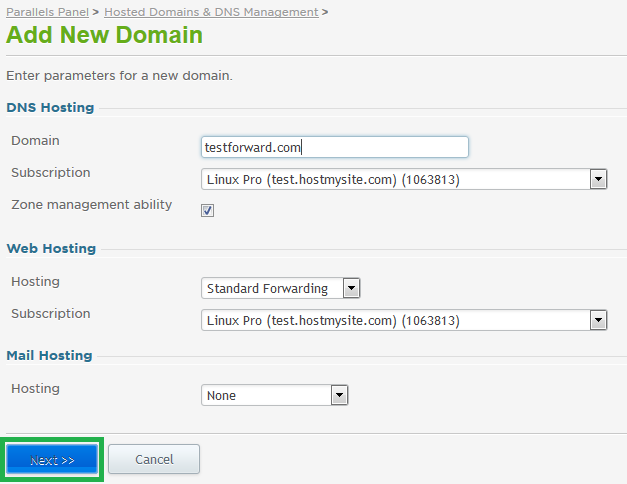 Enter the forwarding URL. This is the destination URL where you want people to end up.

Click Finish. It may take a few minutes before the system shows these changes as "In Sync".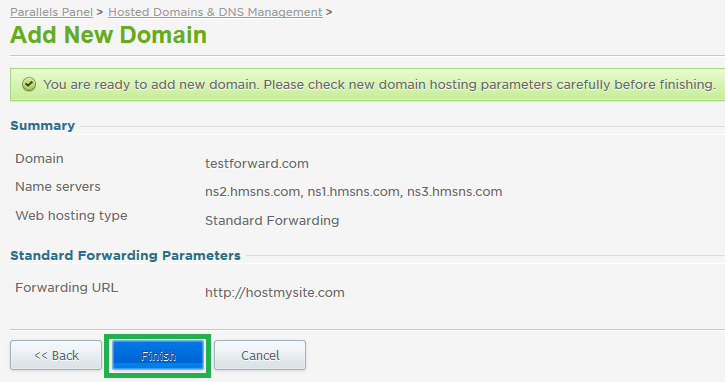 To complete the forwarding configuration, you will need to update the forwarded domain's DNS records to point to a special forwarding IP: 204.12.51.45. It may take a few hours to propagate the change in DNS, due to caching.

If you have any further questions that were not answered in this article, please contact us.
---