How to Add an Access Host to a MySQL Database
Posted by on September 01 2015 06:32 PM
You can allow access to MySQL databases from an external location by adding your IP address to the list of hosts that are allowed to access the databases remotely. Additionally, if you would like to manage your database using an application for remote database management, the IP address from which the connection is established should be added to the list of allowed hosts.
This article assumes that you are already familiar with how to log in to the customer control panel. If you do not know how to log in or have forgotten your password, please refer to this article first.
On the control panel Home tab, click "Databases" under the Databases & Backups section.

Click the name of the database to which the access host will be added.

From the Access Hosts tab, click "Add new access host".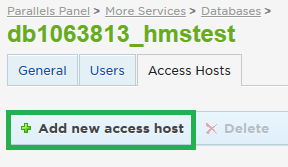 Enter your IP address, then click Submit.

If you have any further questions that were not answered in this article, please contact us.
---