How To Transfer a Domain to HostMySite
Posted by on October 11 2012 11:11 AM
Customers are able to use the HostMySite store to request a domain transfer at any time. The below steps will work for transferring a domain for both new and existing HostMySite customers. If you a new customer, you will be prompted to create a new HostMySite account before placing your order.

Please note that your control panel user's contact information will be used for your domain's Whois contacts by default. The contact information can be changed at a later time by following the steps listed here.
Before transferring a domain, please be sure that your current domain registrar has unlocked the domain and provided you with the domain's transfer code. Instructions for completing these steps with a few popular domain registrars can be found here.
In your web browser, navigate to https://store.hostmysite.com then c

lick on Domain Registration to start the process.

Check the radio button for "Transfer a domain name" then enter the name you would like to transfer (the TLD should be selected in the drop-down menu). Click "Transfer Domain".

If you would like Whois privacy on the domain, which protects your contact information from being publicly visible during a Whois lookup, keep the box checked for this service, then click Continue. If you do not want to use Whois privacy, simply leave the box blank and click Continue.

If you only want to transfer this domain name and not tie it to any existing services, click the radio button for "I do not require any additional services". Then, click Continue.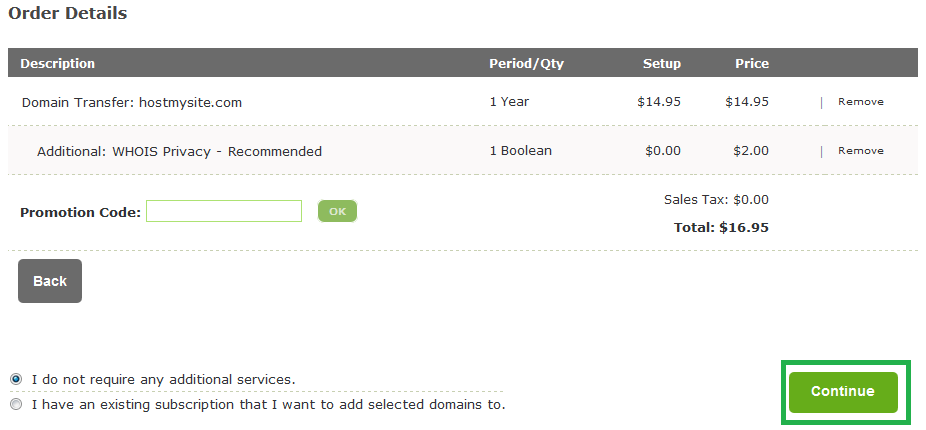 You will be taken to a confirmation page, where you can select the radio button indicating whether you are or are not already a customer.

For Existing Customers: You will be prompted to enter your control panel login credentials. Once entered, you can select your payment method from the drop-down menu and then place the transfer order.
For New Customers: You will then be prompted to enter your contact information and payment information for the order. You will also need to check the box to accept the HostMySite Terms of Service which are linked on the bottom of the page. Once this information is entered, click "Place Order" to complete the order process.
After initiating the domain transfer on our site, you will receive an email requesting approval of the transfer request. Information on how to complete this final transfer step can be found here.
If you have any further questions that were not answered in this article, please contact us.
---