Manage Your DNS Zone in the Classic Control Panel
Posted by on March 01 2013 10:36 AM
Subscriptions and domains ordered before 31 October 2012 will generally utilize our "Classic" name servers, which cannot be managed from the main customer control panel. To access these DNS records, you must utilize the Classic Control Panel.
This article assumes that you are already familiar with how to log in to the customer control panel. If you do not know how to log in or have forgotten your password, please refer to this article first.
Select the Classic Control Panel tab from the control panel home page. This will log you into the Classic Control Panel. If you do not have a Classic Control Panel tab, you can log in directly via this URL: https://cp.safesecureweb.com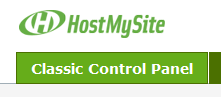 Once logged in under the Classic Control Panel, ensure the correct domain or hosting plan is selected on the top menu next to "Manage Account/Domain" and click the Switch Domains button.

From the left navigation bar, select Domain Name Administration, then DNS Administration.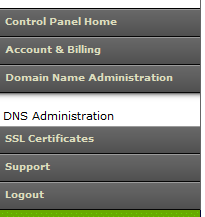 Find your domain name in the list shown and click "Advanced DNS Administration" to view your full DNS zone. You will be given options to add, update, or delete records. (The "Basic DNS Administration" link will not show your existing DNS records, as it is only for adding a new record). You can also export your DNS records into a CSV file with the "Dump Zone to CSV" link on this page.

IMPORTANT NOTE: If you had our support team manually add SPF or TXT records, these will not appear in the Classic Control Panel DNS Administration area, as TXT records are not supported. You can view these by using an "nslookup" tool.
If you have any further questions that were not answered in this article, please contact us.
---